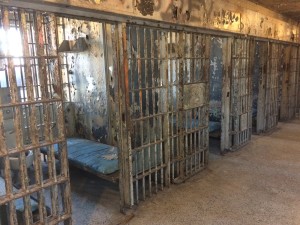 Straight out of the pages of an Escape Room- featured on an area news report.  click here KFVS 12
Charlie Birger spent a hard long year locked up in the jail and couldn't manage to find a way out. Have you ever thought you were smart enough to bust outta jail? Are you better than Birger? Well then, The Jail Break Challenge is now on. You and your teammates have 60 minutes of isolation inside the 1906 lower cell block where only problem solving, creativity, and resourcefulness will set you free. You'll need to think and work fast using MacGyver-like techniques to find your way to freedom. One hour in this jail ticks away fast.
Recommended for team participation of 4-8 so-called Escape Artists.
To reserve your team's hard time behind bars call or email the Franklin County Historic Jail Museum. Booking teams now -Monday through Saturday after 5:00 pm.
$12.00 per person or group rates available for larger teams.
Team Members
4- $12.00 per person
5- $12.00 per person
6- $12.00 per person
7- $10.00 per person
8- $9.00 per person
Groups larger than 8 will be $8.00 per person and may be divided into two teams to compete against each other.
Student discounts available
618-435-5777
historicjail@frontier.com