"Beatle" George Harrison's 1963 Visit
___________________________________________________
.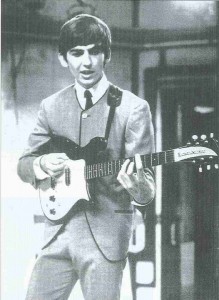 During the late Summer of 1963, Beatle George Harrison traveled to Benton IL for a three week visit with his sister Louise Caldwell as "first Beatle visit to the USA".  While The Beatles had moved to London, completed half of The BBC Recordings, and were to perform for the Queen, they were not known in the United States. In this photo is George Harrison with the black model 425 Rickenbacker guitar that he purchased during his visit and played on The Ed Sullivan Show four months later.
___________________________________________________
.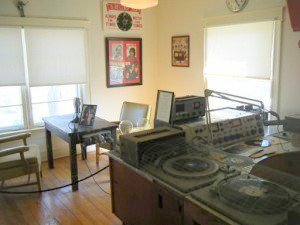 George's sister Louise Harrison Caldwell had moved to Benton earlier in 1963 with her husband who was a Mining Engineer with the Freeman Coal Co. in neighboring West Frankfort IL. In an effort to promote their British music that, supposedly, "would not sell in USA" they visited the WFRX Radio Staion, conducted a live interview and aired "From Me To You". In this museum display is the turntable, mixer, microphone and interview table from this historic event. Who would know that in February 1964, the Beatles would attract the largest television audience to that date and become the top icons of the last century.
___________________________________________________
.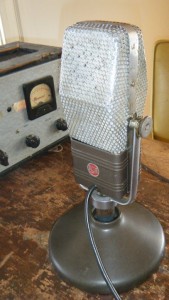 RCA Microphone used during first Beatle USA live radio interview. WFRX equipment donated to FCHPS by Dennis "Dutch" Doelitzsch in 1997.
___________________________________________________
.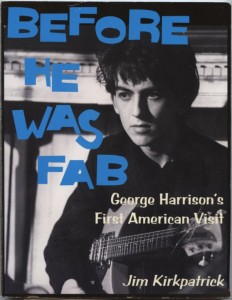 From our Book Store- "Before He Was Fab" is a documentary by Jim Kirkpatrick of the George Harrison visit to Benton in 1963. During this historic "First Beatle Visit," George became friends and "sat in" playing lead guitar, with a local band, The Four Vests, at the Eldorado VFW. A local patron commented to Louise, "He could probably make a living as a musician." While a total stranger in the US, he was so famous in the UK at that time, that he could not safely leave his London apartment.
___________________________________________________