Robert S. Rea, President
Franklin County Historic Preservation Society
_________________________________________________________

.

The Franklin County Historic Preservation Society,  a  501c3 not-for-profit Corporation was founded in 1993 for the purpose of  identifying, restoring and promoting the rich historic inventory  within Franklin County Illinois.
Rallying in urgency , our first endeavor was the acquisition and restoration of The Old Franklin County Jail in Benton.  It defied logic that, armed with only sheer determination and less than one hundred dollars in assets,  we could possibly succeed.  Fast forward nearly two decades, thanks to our many members and partners, we have exceeded all imaginable expectations.  Franklin County Historic Preservation society, based on our record of accomplishments, has proven to be an essential element in the physical, cultural and economic development of Franklin County.
Accomplishments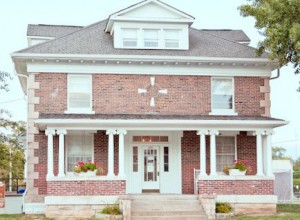 1996– The Historic 1905 Franklin County Jail, following complete restoration and placement on The National Register of historic Places, was opened  as an Interpretive Museum and office for The Franklin County Tourism Bureau. Fulfillment of an Illinois DCEO application in 2009 for Tourism Attraction Signage on I-57 has resulted in an average visitation of 35 guests daily from outside the region.
___________________________________________________
.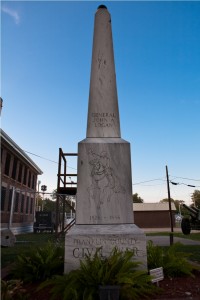 1998–The Franklin County  Civil War Memorial was  constructed and dedicated in honor of Major General John A. Logan and the 214 Franklin County Civil War Union Veterans who gave their lives. This 16' Georgia Marble monument is located on grounds of the Historic Jail Museum.
___________________________________________________
.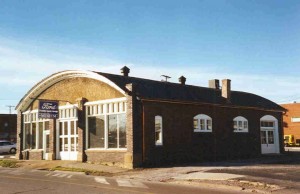 2000-The 1910's Franklin County Garage Museum was opened as an early automotive  museum and office for the Benton-West City Chamber of Commerce – Constructed in 1910 as Franklin County's first Ford dealership, this historic and unique "Barrel Roof" building was facing the wrecking ball. Beginning in 1998 FCHPS, proposed a partnership with the City of Benton as a "win-win" solution for their need of additional clerical space. FCHPS obtained a $50,000 Illinois 50% Match TAG Grant, $12,500 in private donations and the volunteer labor for interior renovation.
___________________________________________________
.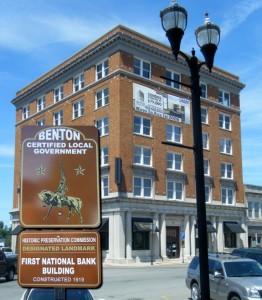 2004– D.L. Wood Building / Stabilization and marketing – Constructed in 1919, his irreplaceable six story structure, following years of disrepair, was condemned and barricaded by The City Fire Marshall.
FCHPS entered into an agreement with city and local listing realtor which would allow stabilization of
structure, removal of modernizations to reveal architectural components and was granted full access to all records for the purpose assisting potential developers from the perspective of potential Federal Historic Renovation Credits. Following up on several leads and months of detailed assistance, Mt. Vernon Developers Brian Edmison and Robin Hensley committed to this extensive project. Beginning in 2006, this historic multi-year multi-million dollar renovation was completed in 2009. The Wood Building proudly stands today as the central architectural theme of Franklin County.
___________________________________________________
.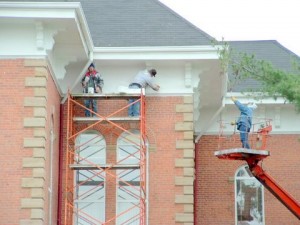 2004- Franklin County Courthouse Corbel Restoration Project- Since construction in 1875, the original Corbels ("L" Eve Brackets) of this historic structure had been removed. FCHPS proposed and entered into an agreement with The Franklin County Board in which the 88 needed corbels would be sold to individual donors at a cost of $125@. This would allow purchase and installation of corbels in conjunction with scheduled repair and painting of eves and fascia on the part of Franklin County.  An historic marker was placed within main entrance of Courthouse by FCHPS upon completion.
___________________________________________________
.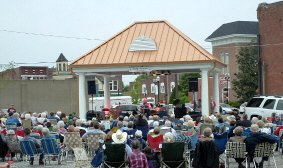 2006- Capitol Park Band Shelter- Following acquisition by the City of Benton of the SE corner of the Benton Public Square, as a municipal parking lot and "Mini Park," FCHPS was assigned the task of design,  material specification and  volunteer construction oversight  of  a band shelter. Dedicated in the name of Benton's "Grand Old Opry legend," dozens of community events, including  The Summer Cruise Series and Capitol Country Review (both  co-developed by FCHPS) have been centered within the Billy Grammer Band Shelter.
.
_____________________________________________________________
.
.
.
.